Want to Share?
Product Name – Amazon Echo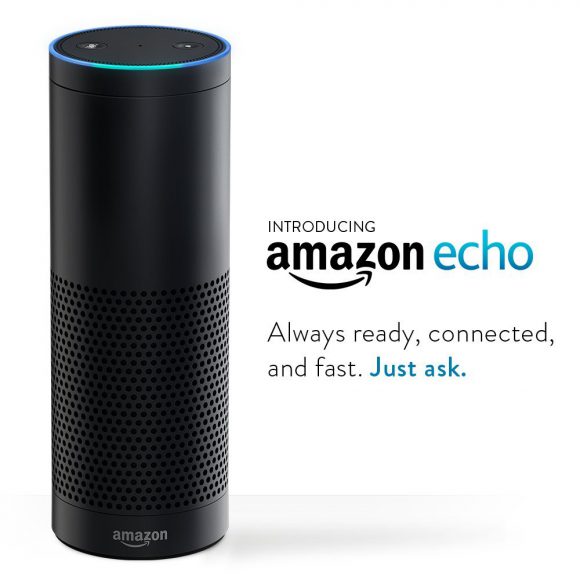 My Overall Ranking: 8.5/10
Wife's Ranking: 10/10
Price: $179.99 Amazon Echo
Hi there! Kevin here with another exciting review! I am dedicated to bringing you exclusive reviews to help you avoid wasting your own time!
Let's get started on what I loved and did not like so much about our newest household gadget!
The Birthday Gift
June 21, 2016 was right around the corner. I had to THINK quickly! What could I possibly get my wife for her birthday! It was like an ECHO in my head! I slowly typed AMAZON in my search bar. The echo in my head was a reminder of this specific product I had very little knowledge about until now.
I acknowledged this review strictly backwards for a reason, the words ECHO and AMAZON were not really a valid topic of conversation in my life. Well maybe Amazon was, but before my wife opened my eyes to just how ingenious this gadget really is. I can honestly say it was an ECHO I wish I would have heard when it first hit the market.
Luckily she constantly throws hints for different gifts throughout the year to allow me to bring an honest review to everyone today! Amazon Echo Speaker Review simplified: Is not just a speaker!
5 Reasons You Should Consider –

PROS
Here are 5 reasons I'm recommending you give this product your full attention!
It is a gift my wife continually enjoys each day and I get to as well! (win/win scenario) – Great gift for your spouse if they are into technology.
Simplicity yet Sophisticated (Down to the Design: Simple, Sturdy Structure, Ease of Use, and Futuristic) – Really love the LED lights as you turn the volume up or down.
It is compatible with other gadgets: 

Nest Learning Thermostat,

it is another great addition to your household if you like the idea of controlling your thermostat via smartphone.
Play your own music or stream it easily using Pandora, iHeart Radio, Spotify and other services: news, podcast, audio books, etc.
Fits perfectly into your daily routine – I keep finding out neat new things with this nifty product and it is always learning as I learn.
I never thought I'd be enjoying the Echo as much as I have within this small amount of time. It has literally only been around a week and a half, yet it is making my life and my family's much more simple. From telling "Alexa" to turn out my lights when it's bedtime using the Wemo Light Switch (other options to check out: Motion Sensor and IFTTT.com which is really amazing if you're very tech savvy), to add a grocery list that syncs directly to my smartphone, setting a kitchen timer, or simply playing music.
"The features keep growing just like the capabilities of this divine smart home device." Alexa is a lifestyle experience I really did not realize I wanted. It has excessive uses for anyone progressing into the future of a smart home!
5 Things You Should Know –

CONS
It was a bit more difficult to write this section of the review, but none the less no product is perfect and I like to fully engage you in contributing your own experience with the product in the comment section below. If you decided to purchase it or perhaps already have one!
My number one complaint is the speaker bass, it tends to be a bit weak even at high volumes, overall the quality is amazing for most room settings, but I have no doubt that they will integrate additional speaker capabilities or the ability to interface with other subwoofers/a TV sound bar? Considering I had the pleasure of getting this 

Samsung Wireless Audio Soundbar

 as a

Father's Day gift!

 This feature would make me completely erase my complaint if they implement it and I would certainly retract this statement.
Of course, if your area does not supply a decent internet connection this product is probably not right for you. Power outages or WiFi outage can cause the product to be basically useless, but that is sort of self-explanatory. Just thought I'd mention it.
Smart TV compatibility with the ECHO is not a thing yet.
You can't ask Alexa to call someone.
The COST? Can get expensive. Since this product is growing rapidly it tends to add more to your shopping list as it grows.
As you see I used the words CAN! The Echo itself in my personal opinion is wonderful on pricing! For everything this gadget does out of the gate, $180 is not a bad price tag at all. Making additional purchases easing the comfort of making your home smart as your Amazon Echo continues to grow is ultimately…PRICELESS!
My Final Product Evaluation

I can definitely recommend this product with my LEGIT stamp of approval. As far as Amazon Echo's competition, it is in a league of its own currently. If it continues to grow, the potential is unimaginable!
You might not realize you even want this product, but trust me, YOU WILL! I would like to recommend this product to everyone looking to increase their smart home success.
It is clearly the only inventive smart home product with multiple functionalities that keeps incorporating 3rd party products to produce more use out of this one stop smart home device!
"Check out Amazon Prime Free Trail if you decide to get your own Alexa"

It's definitely worth it to get the full use out of the talented Amazon Echo!
What are your thoughts?
Once again my name is Kevin. As the Founder of BuilTooLastOnline.com, I'm grateful to continually provide quality content and reviews! As the Amazon Echo grows on me, I will visit this post directly and continue adding everything else I possibly can to help you make a sound buying decision!
Are there any products you would like me to review next? Please feel free to comment below. I will continue to grow my content based on you! My readers are important to me and I would love you to interact with me directly! Drop a comment below!






Want to Share?